Welcome to the official blog of DEKEMP Research Hub! We're thrilled to embark on this journey of knowledge-sharing and exploration with you. In this inaugural post, we would like to lay out the aims and vision that define our research hub, offer a glimpse into our past achievements, and give you a preview of the exciting content you can look forward to on our blog.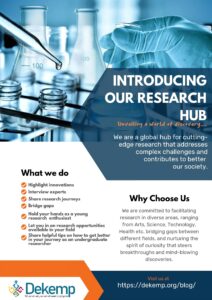 Aims and Vision.
At the DEKEMP Research Hub, our core aim is to push the boundaries of human understanding by promoting a collaborative environment where creative ideas flourish. We are committed to facilitating research in diverse areas, ranging from Arts, Science, Technology, Health etc. bridging gaps between different fields, and nurturing the spirit of curiosity that steers breakthroughs and mind-blowing discoveries.
Our vision is to become a global hub for cutting-edge and interdisciplinary research that addresses complex challenges and contributes to the betterment of society.
Records of Past Achievements
Throughout our journey, we have achieved remarkable milestones that exemplify our dedication to impactful research. From pioneering breakthroughs across various domains such as science, technology, and the arts to fostering collaborative endeavour that ignites the flame of curiosity in students and empowers researchers to reach their full potential our history is woven with threads of innovation, perseverance, and a relentless pursuit of knowledge.
What to Expect from Our Blog: A Glimpse into the Future
As we embark on this blogging endeavour, we're excited to provide you with a front-row seat to the latest happenings in the world of research. Our blog will serve as a platform to:
Highlight innovations.

Interview experts

Share helpful tips on how to get better in your journey as an undergraduate researcher.

Share helpful tips on how to get better in your journey as an undergraduate researcher.

Hold your hands as a young research enthusiast. 

Expose you to research opportunities available in your field. 
Join Us on This Exciting Expedition!
So, we invite you to embark on this exciting expedition of discovery with us. As we unveil the inner workings of our research hub, showcase the remarkable achievements of the past, and shed light on the promising future ahead, we hope you'll find inspiration, knowledge, and a renewed sense of wonder through our blog. Together, let's explore the uncharted territories of knowledge and pave the way for a brighter, more informed future.
Stay tuned for our upcoming posts, and welcome to the world of great discoveries!!! We look forward to a journey of learning, curiosity and collaboration.
With anticipation,
Jessica Dinwoke
on behalf of DEKEMP Research Hub